Fragrant pilau rice is an attractive yellow coloured rice prepared using warm and fragrant spices. It is a perfect accompaniment for many Indian dishes and can be prepared in no time at all. I have experimented with many spices to create a blend of pilau rice seasoning I am happy with and I have finally found a perfect combination and balance of spices. This easy pilau rice recipe takes very little time to prepare and the spices themselves can be prepared in advance for convenience. The recipe below includes directions for a basic pilau rice but other ingredients can be added, such as cashew nuts, peas, raisins, etc to suit your taste.
Pilau rice is not only for serving alongside other Indian dishes, it can be used in many recipes such as stuffed vegetables or can simply be served as a tasty and colourful side dish with salads, a buffet or barbecue. The quantities in this pilau rice recipe are sufficient for around 4 servings.
Ingredients
Half a medium sized onion
5 cloves garlic
1 teaspoon turmeric
Half a teaspoon ground coriander
1 teaspoon ground cumin
1 teaspoon ground fennel
6 cloves, ground
6 cardamon pods, ground
7.5cm length cinnamon stick
2 dried bay leaves
275g Basmati rice (300ml)
600ml boiling water
A handful of raisins (optional)
A handful of cashew nuts (optional)
A few garden peas (fresh or frozen) (optional)
Dash of cooking oil
Salt and pepper to taste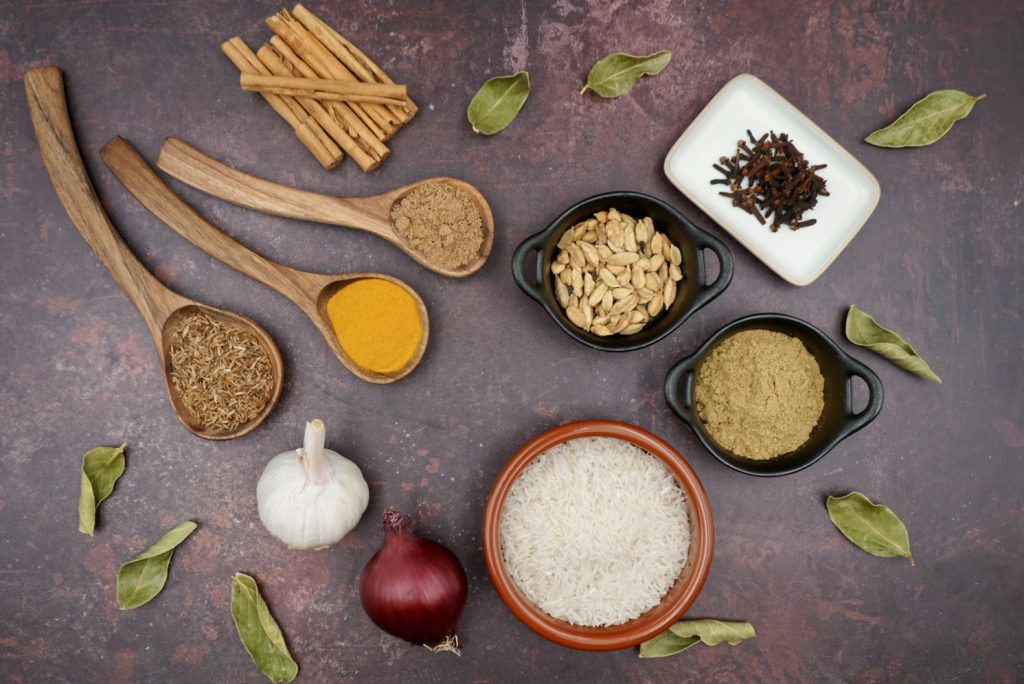 Equipment needed to make fragrant pilau rice
Chopping board
Sharp knife
Garlic press (optional)
Pestle and mortar to grind the cloves and cardamon pods
Large saucepan with lid
Kettle
Kitchen scales
Measuring jug
Teaspoon

How to make fragrant pilau rice
Start by finely chopping the onion and either finely chop or crush the garlic cloves.
Remove the husks from six cardamon pods, discard the husks and crush the seeds to a fine powder using a pestle and mortar. Also, grind 6 cloves to a fine powder using the pestle and mortar.

Measure all the ground spices into a bowl ready to add to the rice.
Gently cook the finely chopped onion and garlic in a little hot oil in the saucepan until they just start to soften.
Weigh 275g Basmati rice (or measure 300ml volume in a measuring jug) and add to the pan with the garlic and onion. There is no need to rinse the rice before cooking.
Add the ground spices to the rice, onion and garlic and stir until evenly mixed. Add the cinnamon stick (about 7.5cm length) and two dried bay leaves. Bring 600ml water to boil in a kettle and add to the pan with the rice and spices. Place the lid on the pan and bring to the boil. Once the water starts to boil turn the heat down and simmer for 20 minutes exactly. Do not stir the rice during the cooking time and do not lift the pan lid to check cooking progress. Simply leave to simmer for 20 minutes, covered, and then your rice will be perfectly cooked.
If you wish to add any extras such as raisins, cashew nuts, peas, etc, then add them to the rice and spices before adding the boiling water.

Tips
The spices can be prepared ahead of cooking the pilau rice. They can also be prepared in a larger quantity so that you have a quantity of pilau rice seasoning ready to use.
The quantities in the recipe above can easily be increased to cook a larger quantity of pilau rice if required.
Pilau rice is not only for Indian meals, it makes a tasty accompaniment to salads and can also be used as a filling for stuffed vegetables such as sweet potatoes, peppers, etc.
Cooked pilau rice can be served either hot or cold. It will keep in the fridge for a couple of days or can be frozen.