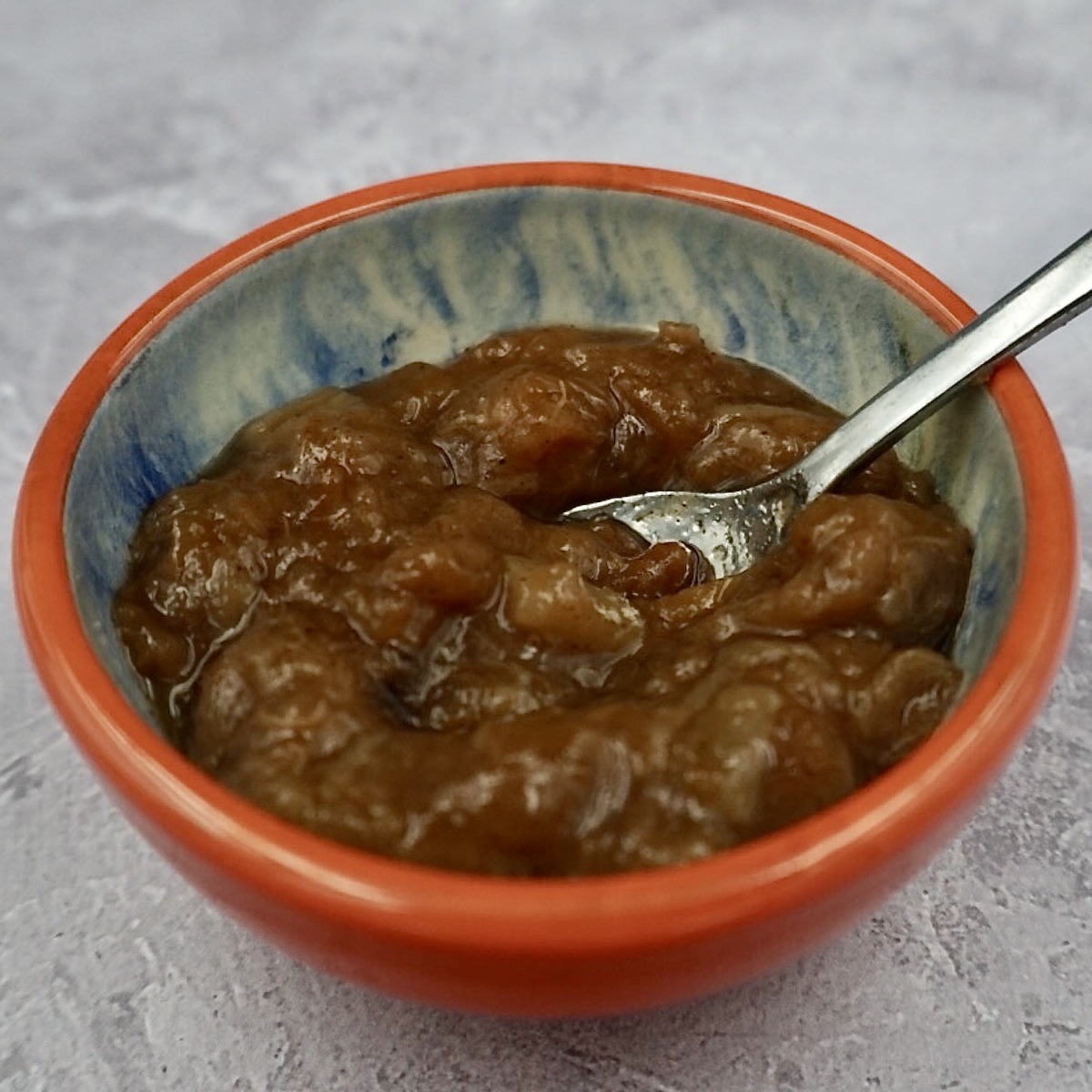 Homemade mixed fruit chutney is a perfect way to store fresh summer or autumn fruits to enjoy during the months ahead. This versatile recipe can be adapted to make use of whatever fruit you may have to hand. This chutney is easy to make and the chances are you will find it far better than any shop bought version. And so long as the jars are sterilised and filled without any air pockets, the chutney can last several years. The quantities in the recipe below are likely to make approximately 4 to 6 small to medium jars of chutney.
Ingredients
3.5kg mixed fruit such as plums, apples, rhubarb, gooseberries, peaches, figs, etc.
3 heaped teaspoons ground ginger or mixed spice
2 teaspoons allspice
2 teaspoons salt
0.5kg granulated sugar
600ml vinegar
Equipment needed to make mixed fruit chutney
Chopping board
Sharp knife
Kitchen scales
Large pan
Teaspoons
Long handled spoon
Measuring jug
Several clean empty jars with lids
Baking tray
How to make homemade mixed fruit chutney
Prepare the fruit by peeling, removing any stones, seeds, etc. Cut into chunks and place in a large saucepan. Add the vinegar, sugar, spices and salt and stir.

Bring to the boil and simmer, without a lid, until the fruit has softened and the liquid has reduced. This may take around half an hour to an hour. Some fruits, such as apples, will have more liquid and this is likely to take longer to reduce.
Pour the mixture into sterilised jars. The jars can be sterilised by placing on a baking tray in the oven at a low temperature with the lids removed (and also placed on the tray in the oven). If you have an Aga then the simmering oven is the perfect temperature for sterilising the jars. Pack the mixture into the jars with no air pockets. If there are any air pockets, place a knife into the mixture to remove the pocket of air. Screw the caps onto the jars and leave to cool.
Tips
Various types of fruits can be used to make this chutney, such as peaches, plums, rhubarb, gooseberries, figs, apples, pears, etc.
The exact quantity of chutney produced will vary depending on the types of fruit used and how much water the fruits contain. So, it will be difficult to know exactly how many jars will be needed but it is a good idea to prepare more jars than are likely to be filled.
As the jars will need to be filled to the top, it is a good idea to prepare jars of different sizes to make it easier to completely fill each jar.
Store the chutney in a dark place such as at the back of a cupboard or in a box for a minimum of eight weeks before using to allow the flavours to mingle.
The chutney will keep for several months so long as the jars and lids are in a good condition and have been adequately cleaned and prepared.
The chutney makes a great accompaniment for cheeses or cold meats.